Lake of the Woods Search
On October 3rd, tragedy struck. The Lake of the Woods Sheriff's office was notified of three missing men on Lake Of The Woods in Baudette, MN. 28-year old Keith Ayers, 24-year old  Cody Ostendorf, and 22-year old Justin Haugtvedt, all of Baudette, were last seen on Friday October 2. The trio was last seen leaving a resort on Oak Island in a 16-foot boat on their way to nearby Flag Island. Their capsized boat was found Saturday afternoon. Since then, 2 of the men have been recovered, but Keith still remains missing.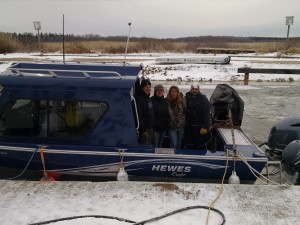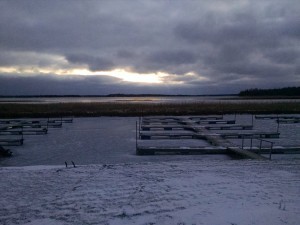 I had been shopping for a better boat to run our search operations from and with the help of our local Coop Credit union we made our decision to get this done sooner, rather than later.  I was planning on waiting until early spring but then we heard about the three missing young men up in the Lake of the Woods.
There was a Hewescraft boat dealer that had just what we were interested in and after some phone calls, we made the purchase. I then contacted the Lake of the Woods Sheriff who indicated they had exhausted all there resources and he would be willing to share his information with us. I then contacted the mother of Keith Ayers. She had traveled to Minnestota from Pennsylvania the day after she heard her son was missing. She said she could not leave without finding her son.
I then began to make the final arrangements and on November 18th, Beth and I traveled to International Falls MN to pick up the new Hewescraft boat. The weather was raining and very cold. I needed to outfit the boat with some electronics and our sonar gear so I ask the owner Rob, if he'd lend some space in his shop so I could do so.
Friday morning we arrived at the shop and he had two of his mechanics help me out with setting up the boat for our equipment. Four hours later, Rob of Baduik Equipment would not charge me for their labor and thanked us for what we do. What an amazing dealer!
Now it was snowing for our 4 hour drive to the Northwest Angle. There's nothing like driving a new boat through a snow blizzard to break it in. Upon arriving we met with Keith's mother and her fiancé in Roseau and followed them to Young's Bay Resort.
Friday the 20th we focused our search in the area the first man was found. We only found an ATV with nothing else of interest.
Saturday the 21st, we woke up to a frozen Marina. We had to chop ice from around the boat to let it free. By the time we got everything loaded, a couple of boats had came in and broke a path for us to get out. We ended up with an interesting image that needed to be checked out. While at the resort for supper I ran into a local guy, Scott Kempenich. He's working in the Northwest Angle and knows the lake very well. When I asked him if he could help out, he didn't hesitate.
Sunday morning we were again frozen in. We chopped the boat loose and again there were some locals able to brake up the ice for us to get out. The winds were much worse and getting good images was not going to easy. We needed to put our dog cage on this particular target so we could then dive down to see what this image on our sonar was. The winds made the task of getting our dog cage close, very challenging.
The dog cage is a known target that shows up on sonar very well. We work this to our target so we can follow the line down to determine just what it is. This process allows for safer and more efficiency when sending a diver down to check out an object. The diver simply follows the line down to the cage, which we try and get within 10′ of our target.
With Scott and John's help we finally got on it. The target of interest turned out to be a jacket that was hung up on a tree limb. This was identified by Keith's mother to be Keith's jacket. We found Keith's jacket within 100 yards of where they found the first missing fisherman. By this time it was about dark and it was Scott's knowledge that navigated us back to the resort safely.
Monday the 23rd it warmed up some and the ice in the marina was not as thick. The winds had calmed down and Scott was back to help Dave and I. We had another target of interest that we wanted to check out. It went much better without fighting the wind. We located this target only to find a tree stump that didn't have anything around it. We then finished out the day running sonar without any other interesting images showing up.
We are able to tell Keith's mother that he is not in this area anymore. We check every square inch up and down of this particular channel.
The hardest part of this is to make a decision to end the search. Coming into this 49 days after the accident was a long shot. But if you don't try how will you know?