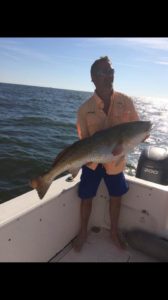 On Saturday June 3rd, I received a message from Cindy, Founder of a non-profit group "Blake Terry Memorial Foundation" out of Thibodaux, Louisiana. Cindy informed me of a missing diver in the Gulf and asked if I could assist in locating him. Chet Cassell went out on a spear fishing trip to an oil rig 50 miles off shore along with two other divers. He was last seen at 40′ on the rig, putting a fish on his stringer. The seas where 6'-7′ and there was a good current. The divers entered the water looking for Chet but could not locate him. They then called the coast guard and they searched through the end of Sunday.
A group of very experienced divers from a spear fishing group called Helldivers went out on Sunday and searched the rig with no luck.
Cindy had contacted Okeanus Science & Technologies President, Benton Leblanc , in which they furnished us (free of charge) with a Klein 3900 sonar, the same model that I own. This allowed me to fly down. Cindy arranged for me to go out with the divers on their boat.
I boarded a plan from Madison, WI Monday afternoon and arrived in La Fayette Louisiana at 11:30 pm. I was picked up by Chet's sister, Dawanna and her son Casey. We then drove a couple of hours to Grand Chenier, LA.
Tuesday morning we met up with the dive team at the boat landing. I hooked the sonar to make sure we had everything and it checked out good. Now for a 50 mile run.
Cassey had told me of the Sunday boat ride, that almost everybody gets sea sick. I started taking motion sickness pills as soon as I arrived after hearing that. When I got to the dock I noticed they all had the motion sickness patches. Now I was getting pretty nervous. The boat captain said the forecast was calling for 12-14′ seas. They asked if I was prone to sea sickness. I admitted I was and they gave me a patch.
We made it out to the oil rig in about 2.5 hours. The 32′ boat was outfitted with twin Mercury 200 motors in which made good time. On the way out it was starting to get rougher, I asked one of the guys what he would call these waves, he smiled and responded, "flat". I was thinking more like 2-4′ seas and not looking forward to the 12-14′ seas they had mentioned. We launched the sonar and searched the area for most of the day. The depth was 80′ and a pretty clean bottom. If Chet would have been here yet, we would have found him. With the current they have out this far off shore, it is very hard to say where he could be. It was a long boat ride back to shore to say the least.
I spent some time talking with Chet's sister and nephew about Chet. Chet was a free spirited kind of guy and he died doing what he loved doing, spear fishing.
Although I am feeling bad that I could not bring Chet home, I have some comfort knowing that Chet's family realizes that it took a lot of people with big hearts to make this kind of search happen and that they have done all they can. Our heartfelt condolences go out to Chet's family. He will be missed by many!