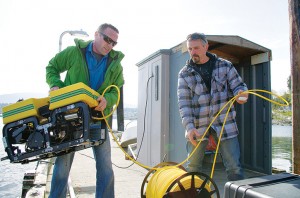 Seamor Marine is making sure Bruce's Legacy & Legacy Water Search and Recovery Society of Langley BC has some of the right tools it needs to find missing drowning victims.
"It's mostly because of the people who came and helped us and our families," Wilson said. "They are overwhelmed with calls and there's nothing like this in Canada."
The society is in the process of raising $350,000 to purchase an ROV, side scan sonar and a boat to carry out searches for Canadian families.
So far, about $50,000 has been raised through donations from service clubs, sport teams and corporations.
Last week, the men from Legacy Water Search and Recovery Society were at the Pacific Biological Station dock conducting sea trials of a Seamor Marine ROV sold to the society at a heavily discounted price with interest-free financing.
"They actually contacted us," Wilson said. "We had already visited Don Simard, Seamor Marine senior sales representative, once and he said, 'We've got to get this in your hands and get you trained because your season's coming up,' as sick as that sounds."
Seamor Marine has received numerous calls over the years from families of missing drowning victims asking for help.
"Last year was a particularly bad year because there were a lot of kids that drowned," Simard said.
The company would refer victims' families and search organizations to a dive company in Courtenay and had loaned its ROVs for searches, but recognized a long-standing need for a Canadian organization dedicated to this kind of work.
Seamor has also outfitted Bruce's Legacy, a drown victim search organization based in Wisconsin, which uses an ROV and side scan sonar equipment in its operations. That organization discovered Seamor by contacting Lebus.
"They're in a bad area where they have some of the worst winters," Simard said. "They cut open ice to go looking for bodies, but they have a similar story."
Bruce's Legacy is named for Bruce Cormican, a Black River Hills, Wis. firefighter who died while trying to recover a drowning victim in 1995.
Full article can be read http://www.nanaimobulletin.com/news/255518341.html. -written by Chris Bush