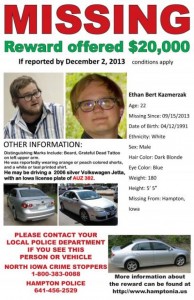 Article written by Mary Peeper…. Hampton | A search and recovery organization from Wisconsin searched Beeds Lake and several ponds Friday for a Hampton man who has been missing since Sept. 15.
Ethan Kazmerzak, 22, was last seen at a party near the intersection of 190th Street and Nettle Avenue in rural Franklin County.
Bruce's Legacy, which operates through grants and donations, used a L-3 Klein 3900 system which is an extremely high resolution digital sonar, Hampton Police Chief Bob Schaefer stated in a press release.
"Unfortuantely, noting was uncovered in the search," he said.
The team from Bruce's Legacy was assisted by the Hampton Police Department, Franklin County Sheriff's Office and Franklin County Emergency Management.
Bruce's Legacy began its nonprofit work by assisting in the search for a missing college student in Wisconsin's Chippewa River this spring.
Schaefer is asking anyone with information about Kazmerzak's whereabouts or his disapperance to call the Hampton Police Department at 641-456-2529.
— By Mary Pieper
http://globegazette.com/news/local/wisconsin-group-searches-beeds-lake-ponds-for-missing-hampton-man/article_80ce9728-f423-542c-9efa-eed98d22f1c6.html