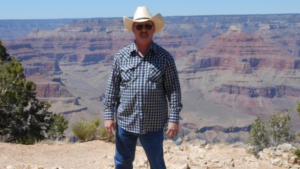 Randy Box Search- Wishon Lake Reservoir, California 10/17
Randy Box and his wife, Diana, took their dogs with them on Wishon Lake Reservoir around September 8, 2017, in a small rental boat. Unfortunately, events caused the boat to overturn. Diana was picked up but sadly Randy was nowhere to be found. After Fresno County dive team searched with no luck, they called in 3 different dive teams with multiple types of sonar. With no success, we were eventually contacted by Randy's wife, Diana, through Facebook.
Beth and I left Black River Falls on Wednesday, October 18 on a 32 hour drive time trip and arrived Friday night at the camppround. We experienced substantial wind storm hazards for portions of Nevada. Wishon Lake Reservoir is very remote area, with breath taking views of cliffs, rocks and huge trees. It is located in Sierra National Forest at around 7000 feet elevation. We started searching Saturday morning.
Wishon Lake was a rock quarry made into a reservoir for generating hydro-power. Underwater conditions consist of large rocks in areas and some quickly varying depths. We began a sonar search with the Klein towfish, completing some grid work to eliminate areas. In the morning of our third day of searching, we located a target and deployed our Outland ROV to confirm it. It was indeed, Randy Box. Our ROV brought him to the surface for Fresno County officers.
We hope this helps his family to have some closure. This will aid them in avoiding the legal mess and expense that is involved for insurance purposes, as well as other issues, when you have a death but no evidence. A death certificate without a body becomes a long legal battle, that an already distraught family does not need to bare.