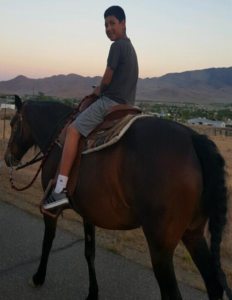 Our trip back to California began August 21, 2017. Beth and I, were reunited with our friend's help from KFC Construction, John , Matt and Rachel, to continue a search for young Markos Vasquez at Stampede Reservoir near Truckee, California.
We were able to gather much more information this trip and had first hand witness accounts of the events immediately following the incident. We interviewed witnesses individually, out on location, in the boat. We also met with Markos's Mother and his 3 young brothers, as well as other family members.
Our first day gave us excellent search conditions for the sonar. The wind was fairly calm and the water quite smooth. We covered the southern portion of our search area but did not have targets for ROV deployment.
The second day we searched to the north of our previous grid and towards the very end of our day we located a target of great interest.
We deployed our Outland ROV and confirmed that it was Markos. We used the ROV's manipulator to recover him in around 100 feet of water.
That evening yet, we traveled to Carson City, NV to inform his Mother and brothers. Markos has a strong, loving, hardworking family and of course we wish that this part of closure help them to have some peace.
We wish to thank all the witnesses, and all that helped in any way whatsoever. There is always an outpouring of aid from good people and without them it would be so much more difficult. John, Matt and Rachel- on the boat and helping beyond the boat- THANK YOU. We wish to thank Truckee Donner Lodge for assistance with accommodations as well.